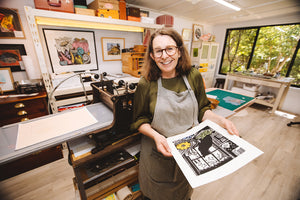 Helen Timbury Design
I'm a graphic designer, illustrator and printmaker. I received my Bachelor of Arts in Visual Communication from RMIT in 1988 (back when graphics was done on paper.
I create graphic design for print, web and signage. I make linocut prints, and other illustrative works on paper. I love making visual things that communicate; I produce brochures, cards, book illustrations, CD covers, logos, signs and limited edition art prints.
Sorry, there are no products in this collection